Spark Knight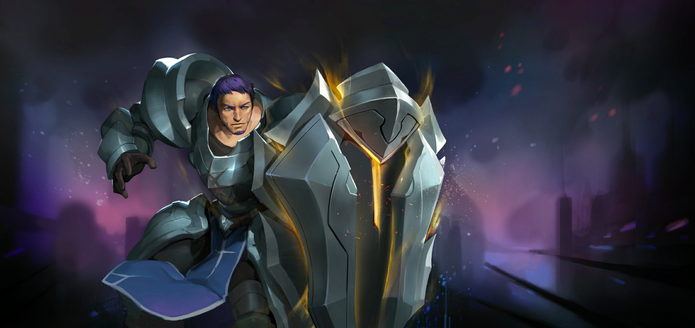 Battle Info
Stats (Lv.60)
Attack
1327
Health
10622
Revive
10
Skills
[Passive Skill] Iron Man
Upon Tier R, unlock passive skill.
[Advisor Skill] For Justice
Allies' grant Armor effects increase by 15%.
[1-orb skill] Shielded Stance
Grant self ( x 1.2) Armor.
[2-orb skill] Shield Your Eyes
Attack ( x 2) front row enemy.
[4-orb skill] Steel Shield Steal
Grant self ( x 3.6) Armor. Trigger ally 1-orb skill.
Resonance
| Resonance Level | Tear | Regional Material | Soul Energy | Character Mineral | Curren |
| --- | --- | --- | --- | --- | --- |
|   to   | x1 | x2 | x6 | x5 | x100 |
Info
♦ Dylan Levon

Previous Colonel to Kingdom of The Sun's Royal Infantry, a legendary hero of numerous frontier campaigns who made a mark in history during the Borderland Battle. Has a steady and sensible attitude, and is a reliable person worthy of high praise.

Advocates peace, opting to solve conflicts using words. Considers war to be an extension of politics and a failure of diplomacy, hence putting off violence until all other possibilities have been exhausted.

Assigned to protect the Princess by late King William, he has grown very fond of Angelia, who looks up to him not simply as a teacher, but also a father figure.
♦ 47 yrs old (12th of Dew month)
♦ 190 cm
♦ CV: Atsushi Imaruoka